Silver Prices Advance in November Despite Final Weekly Loss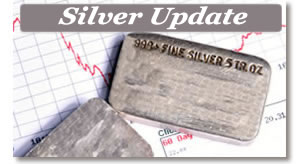 U.S. silver prices moved solidly higher in November despite an ending weekly loss.
Silver looked to pad gains for the week and month when it reached a seven-week high on Thursday, but prices plunged Friday. In the end-of-month settlement, silver prices for March delivery declined $1.15, or 3.4%, to $33.28 an ounce on the Comex in New York.
Many analysts are expecting volatile silver prices through December as a result of U.S. fiscal cliff negotiations.
"The next episode of the 'fiscal cliff' drama was […] Republicans rejecting the plan of the Democrats," MarketWatch quoted Julian Phillips, founder and writer at GoldForecaster.com. "This sets the stage for the gloves to come off for both sides."

"We raise an eyebrow at talk of an early settlement of the issue well before year's end… We expect the political game to be played to the full. All markets including gold and silver will be made volatile as each chapter is read to the public and digested for them."
Silver prices in November traded higher by 96.3 cents, or 3.0%, after dropping 6.5% in October. In going back further, silver gained 10.0% for September, 12.6% for August and 1.1% for July. Before then, the precious metal declined 0.5% in June, 10.5% in May, 4.5% in April and 6.2% in March. Silver rallied 4.2% in February and 19.2% in January.
For the year-to-date, silver prices have advanced 19.2% ($5.36) to easily rank as the best-performing precious metal in 2012.
In other New York bullion prices on Friday as well as changes for November:
February gold prices closed at $1,712.70 an ounce for a November loss of 0.4%,
January platinum prices settled at $1,604.60 an ounce for a monthly pick-up of 1.8%, and
March palladium prices ended at $688.20 an ounce for a November gain of 12.9%
Also on Friday, the London silver Fix was $34.28 an ounce, advancing 52.0 cents, or 1.5%. London silver jumped $2.00, or 6.2%, for the month and $6.10, or 21.6%, in 2012.
In other London precious metals fixings, gold at $1,726.00 an ounce gained 0.4% for the month, palladium at $685.00 an ounce surged 13.0% in November and platinum at $1,612.00 an ounce added 2.7% for the month.