Silver Prices Drop in May 2013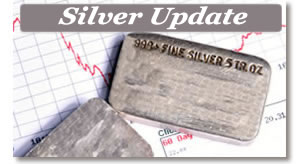 Silver futures fell Friday, taking away prior-day gains that would have resulted in the metal's second weekly increase. Instead, silver prices ended 1.1% lower than a week ago and that drove losses in May up to 8%.
On Friday, silver for July delivery declined 44.7 cents, or 2%, to settle at $22.24 an ounce on the Comex in New York. Prices traded through a 76-cent range, from an intraday low of $22.10 an ounce to a high of $22.86 an ounce.
Registering a fourth straight monthly loss, silver prices in May declined $1.94. Going back through the prior months in 2013, the precious metal plunged $4.14 in April, 10.9 cents in March and $2.92 in February. Its single monthly gain this year was in January at $1.12.
For the year-to-date, silver prices have plummeted $7.98, or 26.4%.
Other precious metals futures in New York also ended lower Friday but there was a split in the month with palladium alone higher. For the numbers:
August gold finished at $1,393.00 an ounce for a May loss of $79.10, or 5.4%,
July platinum settled at $1,461.80 an ounce for a monthly loss of $45.40, or 3%, and
June palladium ended at $753.65 an ounce for a rallying May increase of $55.85, or 8%
Gold is off 16.9% in 2013 while platinum has declined 5.2% since the end of 2012. Palladium, however, is higher with a year-to-date increases of 7.2%.
Also on Friday, the London silver Fix declined 11 cents, or 0.5% to $22.57 an ounce. For May, London silver prices sank $1.85, or 7.6%. London silver fixings so far in 2013 have plunged $7.38, or 24.6%.
Rounding out London precious metals for the month, gold at $1,394.50 an ounce fell 5.1% in May, palladium at $744.00 an ounce jumped 6.4% for the month and platinum at $1,459.00 an ounce shed 3.2% in May.
For the year-to-date, lower are gold by 16.2% and platinum by 4.2%. Palladium has gained 6.4%.