Silver Prices Decline in March and First Quarter 2013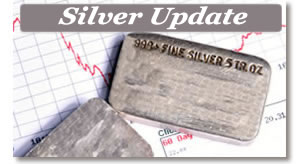 U.S. silver prices retreated in March. Though down modestly, it marked a second straight month of losses and placed the precious metal into the red column for the first quarter 2013.
On Thursday, silver prices for May delivery dropped 28.9 cents, or 1%, to settle at $28.32 an ounce on the Comex in New York. Silver traded from an intraday low of $28.17 an ounce to a high of $28.81 an ounce.
Had silver prices closed nearer the session high, the month would have ended higher as well. As it stands so far for 2013, monthly breakdowns include:
January and its increase of $1.12 or 3.7%,
February and its $2.92 or 9.3% plunge, and
March and its slight loss of 10.9 cents or 0.4%.
These three months combine for a loss in the first quarter of $1.90, or 6.3%.
Thursday ended the week, month and quarter as markets in the U.S. and London are closed until Monday in observance of Good Friday.
As for other major precious metals futures in New York on Thursday:
June gold finished at $1,595.70 an ounce to advance $17.60, or 1.1%, in March
July platinum closed at $1,574.60 an ounce for a monthly loss of $8.90, or 0.6%, and
June palladium settled at $768.25 an ounce for a March pick-up of $33.70, or 4.6%
For the first quarter 2013, gold fell 4.8% but platinum gained 2.1% and palladium soared 9.2%.
Silver Prices in London
The London silver Fix was $28.64 an ounce on Thursday, advancing 31 cents or 1.1%. London silver prices in March declined 1.1% and for the first quarter are down 4.4% (-$1.31).
In other London fixings for the day and March:
Gold at $1,598.25 an ounce advanced 0.6% for the month,
Palladium at $770.00 an ounce surged 3.5% in March and
Platinum at $1,576.00 an ounce declined 1.4% for the month
Quarterly levels split with gold down 4% while platinum gained 3.5% and palladium rushed ahead 10.2%.