Silver Prices Gain 16.4% on Quarter Despite 6.2% Loss in March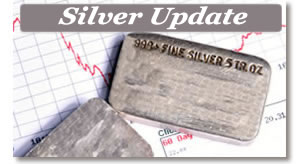 Silver prices rallied in New York on Friday, capping a quarterly gain for the first time since the first three months of last year and despite a tumbling performance in March.
In percentage, silver prices rose 16.4% in first quarter 2012 due to sharp advances in January and February of 19% and 4.2%, respectively. For March, the white metal lost a portion of those earlier monthly gains as it plummeted 6.2%. It also fell from first to second place in the list of best performing precious metals of the year. Platinum now holds that honor with its quarterly gain of 17%. Gold is in third at 6.7% while palladium is struggling at the rear with a loss of 0.3%.
For the quarter in US dollars, silver prices rallied $4.57, gold added $105.10, platinum surged $239.20 and palladium dipped $2.05.
On Friday and in closing the month of March and the first quarter of 2012, silver futures for May delivery settled up 49.2 cents, or 1.5% to $32.48 an ounce on the Comex in New York. Prices traded from an intraday low of $32.13 an ounce to a high of $32.63 an ounce.
Earlier in the week, Standard Bank said the following of the metal:
"The continued deterioration in long positioning, coupled with the strong pick-up in short positions, does indicate a market that expects further losses in silver. The deterioration in net speculative length has seen this as a percentage of open interest, fall to 16.5%. This is still above the 2011 average of 15.7% — indicating an overly stretched market… Rallies should be sold into. We wait patiently for the metal to drop closer to $30/oz. Around this level, we see good value with the potential for silver to reach $40/oz in Q3:12."
In other New York precious metals:
June gold futures prices closed at $1,671.90 an ounce, falling 2.3% in March,
July platinum futures prices settled to $1,644.10 an ounce for a 2.9% monthly loss, and
June palladium futures prices closed at $654.10 an ounce, dropping 7.7% in March
Also on Friday, the London silver fixing advanced 64 cents, or 2%, to $33.43 an ounce. It plunged $4.80 or 12.9% for the month.
In other London fixings, gold at $1,662.50 an ounce declined 6.1% in March, platinum at $1,640 an ounce lost 5% for the month and palladium at $651 an ounce fell 9.8% in March.
Each of the London precious metals registers quarterly gains with gold at 5.6%, silver at 15.1%, platinum at 18.8% and palladium at 2.4%.
Check this site's silver coin values resource page to see how silver prices affect values of certain silver coins on a daily basis.