Silver Prices Rally 19% in January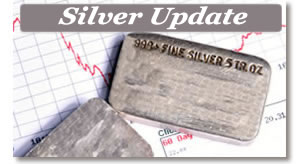 Silver registered its best start to the year in nearly three decades. Easily outperforming all other precious metals, silver prices soared 19.2% for the month in both New York futures and in London.
On Tuesday, March silver futures edged down 26.5 cents, or 0.8%, to close at $33.262 an ounce on the Comex in New York. The white metal traded between an intraday low of $32.930 an ounce and a high of $34.130, the highest price since November 16.
The January pick-up of 19.2%, which translates to a monthly gain of $5.35, marks the best start to a year since 1983. And it contrasts against the metal's collapse during the latter portion of 2011 — a year in which silver plunged 9.8% after sprinting 83.7% higher in 2010.
"Silver got hammered and now we're into a phase where it will do quite well," Bloomberg quoted Dan Smith, an analyst at Standard Chartered Plc in London, and the second-most accurate price forecaster tracked by Bloomberg Rankings in the past eight quarters. "Appeal comes from its widespread use in both industry and investment. I think it's relatively cheap."
In other New York metals futures:
April gold prices settled to $1,740.40 an ounce for 11.1% gain in January,
April platinum prices closed at $1,588.10 an ounce for 13% monthly advance, and
March palladium prices settled to $686.35 an ounce for an increase of 4.6% in January
The London silver fixing was $33.60 an ounce on Tuesday. In dollar terms, it surged $5.42 for the month.
In other London fixings, gold at $1,744 an ounce gained 10.8% in January, platinum at $1,624 an ounce rose 17.6% for the month and palladium at $692 an ounce advanced 8.8% in January.