Silver Prices Soar 12.6% in August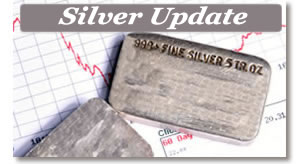 U.S. silver prices rallied in August, advancing for a second month after four monthly losses.
In closing out the week and the month on Friday, silver prices for September delivery surged 99.6 cents, or 3.3%, to $31.44 an ounce on the Comex in New York. Silver traded between an intraday low of $30.30 an ounce and a high of $31.59 an ounce.
For August, silver prices traded up $3.53, or 12.6%. That comes on the heels of an increase of 1.1% in July followed by the aforementioned monthly losses of 0.5% in June, 10.5% in May, 4.5% in April and 6.2% in March. Silver prices soared 19.2% in January and 4.2% in February.
In recent months, the direction of silver and other precious metals has tended to shift on any news that could sway decisions by world central banks to offer more monetary easing. The latest bullish news, in the minds of many investors, came Friday at an annual meeting of central bankers in Jackson Hole, Wyoming, when Fed Chairmen Ben Bernanke said:
"The stagnation of the labor market in particular is a grave concern not only because of the enormous suffering and waste of human talent it entails, but also because persistently high levels of unemployment will wreak structural damage on our economy that could last for many years."
Bernanke added that the Federal Reserve will:
"Provide additional policy accommodation as needed to promote a stronger economic recovery and sustained improvement in labor market conditions in a context of price stability."
Markets initially retreated following Bernanke's speech, and then took off as his comments were further digested.
For 2012, silver prices are up 12.6% — the same as August since the first seven months of the year were a wash.
In other New York precious metals futures Friday and for the month:
December gold prices ended at $1,687.60 an ounce for an increase of 4.5% in August,
October platinum prices settled at $1,537.30 an ounce for a monthly up-tick of 8.5%, and
December palladium prices closed at $629.40 an ounce to advance 6.6% in August
For the year, gold prices have gained 7.7% and platinum has surged 9.4%. Palladium, however, has fallen 4.1% in 2012.
London Precious Metals in August
In London precious metals fixings, silver prices were fixed at $30.52 an ounce to put them up $2.32, or 8.2%, in August. Other metal fixings were:
Gold at $1,648.50 an ounce for an increase of $26.50, or 1.6%, in August,
Palladium at $623 an ounce to mark a monthly gain of $32, or 5.4%, and
Platinum at $1,517 an ounce for an increase of $90, or 6.3%, in August
London metals did not receive a boost Friday, having been fixed before news of Bernanke's speech settled.