Silver Surges During First Week of March 2010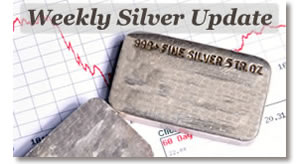 Silver prices have rallied for four straight weekly gains, with the first week of March notably coming in with respective New York and London increases of 5.2% and 7.0%.
For current prices, New York silver futures for May delivery ended at $17.38 an ounce on Friday, soaring 86 cents this week. London silver was fixed at $17.25 an ounce, surging $1.13 cents since last Friday.
For the silver quote of the week, we take an excerpt from Jon Nadler, senior analyst at Kitco Metals, Inc. Mr. Nadler made the following observations/comments on Wednesday:
We revert to Roubini Global Economics, whose analysts feel that "Although silver's long-term fundamentals point to a life of underperformance versus gold, the metal might well outperform in the short-term."

Roubini analysts point to technical as well as fundamental drivers — which, in their opinion — have built a case for a silver rally. They also make a case for the fact that "silver's higher price volatility as compared to gold's price volatility opens up short-term opportunities for higher capital gains."

We, of course, approach the white metal (as we do gold) mainly from the perspective of fundamentals. Not a bad perspective at the moment, albeit it is still a market in surplus.

Roubini observers opine that: "silver is better placed than gold to enjoy the global recovery in industrial production. While non-investment demand accounts for 94% of total demand for silver, non-investment demand accounts for only 62% of total demand for gold. Silver has several large-scale industrial uses — photography, silverware, solar panels, etc. — whereas the physical use of gold lies mostly in jewelry."

The RGE analysts added that: "Meanwhile, alternative uses for silver have been rising, particularly as demand from the photography industry dwindles due to the shift toward digital cameras. The establishment of new silver exchange-traded funds (ETFs) could also tweak the metal's price drivers."
London precious metal weekly prices follow:
London Fix Precious Metal Prices

Gold

Silver

Platinum

Palladium

AM

PM

AM

PM

AM

PM

2/26/2010
1112.50
1108.25
16.12
1540.00
1533.00
430.00
430.00
3/5/2010
1135.00
1135.00
17.25
1577.00
1578.00
465.00
466.00
Weekly Bullion Prices

Up

Down

% Change

Gain/Loss

Silver
X

7.0%

$1.13

Gold
X

2.4%

$26.75

Platinum
X

2.9%

$45.00

Palladium
X

8.4%

$36.00
These articles offer precious metals and silver coin news: In related silver and gold news, interesting or quick-read articles from the week include:
Upside-Down Views and Hot Pics From Down Under – Jon Nadler, Kitco Metals Inc.
Gold's overnight range tightened a bit further, as risk aversion ahead of the US payroll data kept speculators largely sidelined. While the short squeeze in the euro appears to have run out of most of its steam, the dollar remained firm near 80.50 on the trade-weighted index as its traders were also reluctant to dismiss Thursday's impressive turnaround and cash in on their gains before learning what the jobs picture might look like this morning.

Greece-oriented worries continued to underpin the generally cautious mood and albeit the trade appeared bearish on the US jobs data (weather is thought to have wreaked some short-term havoc with the numbers — havoc to the tune of perhaps 50,000 to 90,000 jobs) one Aussie currency trader cautioned that with that kind of 'X-factor' in the equation, the data could 'throw anything up.' …
2009 American Silver Eagles Smash Record
The U.S. Mint wrapped up its accounting for 2009 American Eagle Silver Coins. The latest numbers are nothing short of impressive. Authorized buyers snapped up a record 30,459,000 of the .999 fine bullion coins. That is nearly 9.9 million more than the previous record which was set only a year earlier with the 2008-dated Silver Eagles. Those reached 20,583,000 …
Disabled Veterans for Life Silver Commemoratives Debut Strong
The latest United States Mint weekly sales report is published and the newly released 2010 Veterans Disabled for Life Silver Commemorative Coins take center stage. 98,358 silver dollars were sold, according to the US Mint's latest stats. And those numbers are for three days only — between their Thursday noon launch to Sunday. Buyers preferred the proof to the uncirculated version by a more than 2-1 ratio, as the below table reflects …
For silver news and prices, see Spot Silver Prices.