US Mint Sales: 2011 Army Silver Dollars Debut at 67,593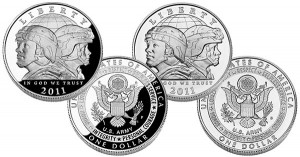 Another highly anticipated 2011-dated silver product debuted in the most recent US Mint weekly sales report. The 2011 United States Army Silver Dollar Commemorative Coins hit the street on Monday, January 31, and they racked up 67,593 across both proof and uncirculated options.
Broken out, the proofs won the race with 46,895, and the uncirculated trailed with a solid 20,698. Not a bad start, considering these silver dollars are competing with other commemorative coins of a similar theme, the U.S. Army clad half-dollars and U.S. Army $5 gold coins. Each of the three denominations have different obverse and reverse designs, while all of them are celebrating the establishment of the Army in 1775.
For reference, a table of US Mint sales follows for the gold and clad Army coins (stats for the Army Silver Dollars are further below).
Army Commemorative Coin Sales Debut Figures
Debut
Sales
Sales
Total
Mintage
Limits
$5 Gold Proof
7,861
10,906
100,000
$5 Gold Uncirculated
3,045
Clad Half-Dollar Proof
30,161
46,690
750,000
Clad Half-Dollar Uncirculated
19,528
Collectors continued to go after the new 2011 Silver Proof Sets. In one week's time, sales climbed 23,151. The set was released on January 25, and as of Sunday, February 6, the Mint sold 232,518. It will likely take another week to pass the 2010 set's four-day inaugural sales of 241,656.
In this round, the 2010 Silver Proof Set grew by 3,213 and its total struck 532,306. Its two previous weekly advances were 2,868 and 2,711, so demand appears to be growing.
The 2010 America the Beautiful Quarters Silver Proof Sets™ also quickened their pace by picking up 1,559 as compared to their prior weeks' 963 and 1,189 gains. Their tally struck 235,521 and still lack 63,643 to pass the 2009 Quarters Silver Proof Set, which ended at 299,164 (still unofficial).
On the bullion front, the American Silver Eagle remained hot. 847,000 more coins sold since last Wednesday. February's total is still a little shy of one million, but it did move up to 897,000. Their year-to-date sales hit 7,319,000.
The following are the latest silver coin product sales figures:
Numismatic Silver Coins US Mint Sales
Previous Sales

New Sales

Unit Increase

% Increase

Mintage Limit

2011 Army Silver Dollar Proof
46,895
46,895
100%

67,593 of 500,000

2011 Army Silver Dollar Uncirculated
20,698
20,698
100%
2011 US Mint Silver Proof Set
209,367
232,518
23,151
11.06%
none
2010 US Mint Silver Proof Set
529,093
532,306
3,213
0.61%
none
2010 America the Beautiful Quarters Silver Proof Set™
233,962
235,521
1,559
0.67%
none
2010 Proof American Silver Eagles
860,000
860,000
0
0%
none
Sunday, February 6, 2011, is the "as of date" for the US Mint collector coin sales figures shown above.
2011 Silver Eagles US Mint Sales
| | |
| --- | --- |
| January* | 6,422,000 |
| February | 897,000 |
| Total | 7,319,000 |
*Tuesday, February 8, 2011, is the "as of date" for the bullion eagle numbers. The sales figures include 469,500 of the 2010-dated Silver Eagles sold.