US Mint Silver Proof Sets Return After Suspensions
The United States Mint is once again offering silver proof sets after soaring precious metals prices resulted in their sale suspensions for several weeks.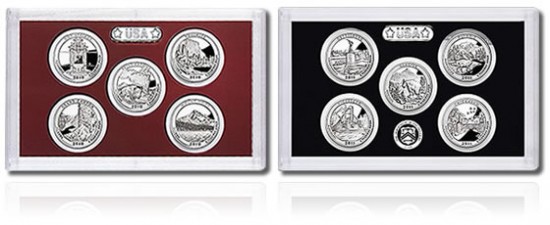 The 2010 and 2011 Silver Proof Sets and the 2010 and 2011 America the Beautiful Quarters Silver Proof Sets may be purchased directly from the US Mint (http://www.usmint.gov) at their most recent pre-suspension prices. The proof sets were returned to US Mint store shelves Thursday afternoon.
The four silver products have been under the glare of rising silver prices since early March, with three distinct rounds of suspensions as the cost of the white metal began pushing above $33 an ounce and registering successive daily 31-year highs.
According to the Mint, the suspensions were used as a time to review "prices of current products" to make sure the market value of the precious metal contained in them was not "higher than the cost of the products themselves."
In chronological order, the US Mint froze last year's sets during the first week of March. After a reevaluation, the Mint raised their prices on March 18 only to suspend their sale again on April 8 when silver prices broke the $40 an ounce level. Set suspensions rose to four on April 18 when the metal climbed toward the $44 an ounce mark.
The precious metal's rally continued through to the end of April, scoring a massive 28% monthly increase as it reached within an inch of hitting $50 an ounce. But this week silver prices have plunged with double-digit dollar losses. The metal on Friday morning was fixed in London at a shadow of its former height, $34.20 an ounce.
The United States Mint currently has a pricing policy in place for its numismatic gold coins where they may go up or down based on large swings in the value of gold. When price adjustments are needed, the coins are suspended for a few minutes before buyers can place new orders. The US Mint does not have a companion pricing system in place for its numismatic silver products. The result is much longer suspensions.
As a quick pricing recap for the four products, the 2010 Silver Proof Set was issued on August 26, 2010 for a price of $56.95. Its price went up to $64.95. The 2010 America the Beautiful Quarters Silver Proof Set was released on May 27, 2010 for $32.95. The price is now $39.95. The 2011 Silver Proof Set, while suspended, never underwent a price increase. It launched on January 25, 2011 and is priced at $67.95. The price for the 2011 America the Beautiful Quarters Silver Proof Set was announced early in the year at an expected $39.95. However, when it was released on March 29, 2011 the price was and is $41.95.