US Silver Coins Return Following Suspensions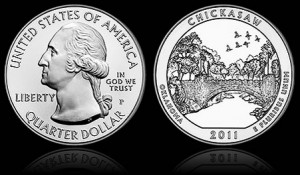 The United States Mint resumed sales of its suspended silver coins Tuesday, March 6, following a 12 day freeze. All of the products returned at their previous price points. The America the Beautiful Five Ounce Silver Uncirculated Coins are $204.95 each, and the 2011-W Uncirculated Silver Eagle is $45.95.
America the Beautiful silver coins for sale by the U.S. Mint are those honoring Gettysburg National Military Park in Pennsylvania, Glacier National Park in Montana, Olympic National Park in Washington, Vicksburg National Military Park in Mississippi and Chickasaw National Recreation Area in Oklahoma.
These and the Eagle returned after silver prices came down from highs of over $37 an ounce to the current level of near $33 an ounce. Each of the 99.9% silver coins were suspended on February 23 when the price of silver made a quick run above $35 an ounce.
The U.S. Mint closely follows London precious metals fixings and uses them to evaluate its numismatic gold coin and platinum coin prices each Wednesday. Numismatic silver products, however, are not priced using the same process. Instead, they are typically suspended for several days to a few weeks after silver makes sharp moves. Often the coins eventually return at the same price.
The latest suspension was the first one in 2012. Last year collectors saw several of them due to silver's volatility. The most recent instance when the U.S. Mint actually adjusted prices on its silver coins was December 27 when it lowered the uncirculated Eagle and America the Beautiful Five Ounce Silver Coins from $50.95 and $229.95 to their current levels.