US Mint to Increase American Eagle Silver Bullion Coin Premiums on Feb. 9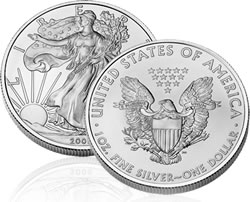 The price for 2009 American Eagle Silver Bullion Coins will increase Monday, February 9, the United States Mint told its authorized dealers in a memo published last week on the Federal Register — the official daily source for notices by government agencies.
The Mint will raise its premiums per coin by 10 cents, from $1.40 to $1.50 per coin, to help compensate for an increase in the "raw materials silver" price.
Collectors should note that the coins referenced are not the collector versions with the "W" mintmark, which are purchased directly from the US Mint's online storefront. The silver eagles are the bullion versions sold to Authorized Purchasers, who then sell to the public.
According to the Mint, these coins are not specifically intended for collectors but to "provide investors with a convenient and cost-effective way to invest in precious metals." Of course, many collectors purchase the bullion versions yearly.
The Mint has not issued, or scheduled the release of 2009-dated collector American Eagle coins. It began offering the bullion versions to dealers in late December.
The following is a copy of the Mint memo published on the Federal Register:
[Federal Register: January 27, 2009 (Volume 74, Number 16)]
[Notices]
[Page 4830]
From the Federal Register Online via GPO Access [wais.access.gpo.gov]
[DOCID:fr27ja09-87]

DEPARTMENT OF THE TREASURY

United States Mint

Notification of United States Mint Silver Eagle Bullion Coin Premium Increase

ACTION: Notification of United States Mint Silver Eagle Bullion Coin Premium Increase.

SUMMARY: The United States Mint is increasing the premium charged to Authorized Purchasers for American Eagle Silver Bullion Coins, a program authorized under 31 U.S.C. 5112(e).

Because of the recent price increase for the premium for raw materials silver, the United States Mint will increase the premium charged to Authorized Purchasers for American Eagle Silver Bullion Coins, from $1.40 to $1.50 per coin, for all orders accepted on or after February 9, 2009.

FOR FURTHER INFORMATION CONTACT: B.B. Craig, Associate Director for Sales and Marketing; United States Mint; 801 Ninth Street, NW.; Washington, DC 20220; or call 202-354-7500.

Authority: 31 U.S.C. 5112(e)-(f) & 9701.

Dated: January 22, 2009.
Edmund C. Moy,
Director, United States Mint