US Mint Release Schedule for 2009 Commemorative Silver Coins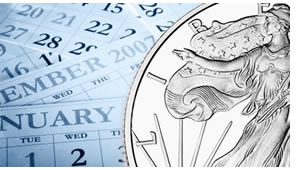 To the delight of many collectors, the United States Mint has set launch dates for several 2009 coin products.
The current Mint schedule is far from complete, which is normal for this time of year. Specific release dates are provided only through March, with more than a dozen coin products listed in a general Spring timeline, like the 2009 DC & U.S. Territories Quarters Silver Proof Set. (The clad 2009 proof quarters go on sale Monday, January 5.)
The commemorative silver dollars are front loaded on the calendar, with the following release dates:
History has shown the Mint to launch coins without previous notice, which is worth remembering.
Noticeably missing from the schedule are the collector American Eagle silver, gold or platinum coins. The Mint's 2008 coin release schedule had the American Eagle Silver Proof coin released by January 3, the gold proof on March 4 and the uncirculated silver eagle on March 17.
The Mint's authorized dealers were able to order investor/bullion eagle versions since December 29, and are already promoting them. (See US Mint statement regarding American Eagle coins for it authorized purchases.)
It would appear collectors may have to wait longer compared to last year for some of the bedrock annual Mint coins.
For other product release dates, view 2009 Mint Schedule.