Weekly Silver Prices Fall More Than 7%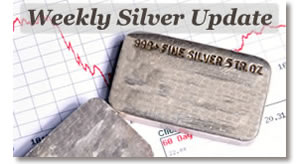 The pullback in silver prices that began last Friday continued through the week, as commodities were pressured lower mostly due to a stronger U.S. dollar, according to reports.
Silver plunged in both London and New York, with respective weekly drops of 7.0% and 7.7%. It was the worst performer in the precious metals group.
New York silver futures for March delivery finished Friday at $17.09 an ounce, plunging $1.43 to easily discard the prior week's 21.8 cent gain.
London silver was fixed at $17.51 an ounce, falling $1.32 for the week. It ranged from a high of $18.83 on Monday to a low of $17.39 on Thursday. Despite the large weekly loss, the metal is still up more than 62% this year.
Silver has a period of seasonal strength from the end of October to the end of May. Silver has gained in nine of the past 10 periods for an average gain per period of 21.4%," writes Don Vialoux via National Post. "Although silver is responsive to changes in the price of gold, it tends to have a greater correlation with base metal prices that also have a period of seasonal strength from the end of November to May."
London precious metal weekly prices follow:
London Fix Precious Metal Prices

Gold

Silver

Platinum

Palladium

AM

PM

AM

PM

AM

PM

12/4/2009
1203.25
1190.25
18.83
1484.00
1472.00
382.00
378.00
12/11/2009
1140.00
1124.00
17.51
1436.00
1429.00
367.00
367.00
Dollar and Percent Price Changes

Up

Down

% Change

$ Change

Silver
X

-7.0%

-$1.32

Gold
X

-5.6%

-$66.25

Platinum
X

-2.9%

-$43.00

Palladium
X

-2.9%

-$11.00
These articles offer precious metals and silver coin news:
For daily silver news and prices, visit Spot Silver.