2009 Quarters Silver Set Returns from Sell Out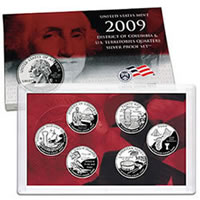 The U.S. Mint is again selling the 2009 DC & US Territories Quarters Silver Proof Set. It had moved to the Mint's "sold out" column last Tuesday, but has since returned for the same $29.95 price.
The quarters silver set received extra attention in October as its melt value had been reaching closer to its selling price and its sales began to outperform prior weekly gains.
The Mint in the distant past has returned products to store shelves after they had been listed as sold out. In that sense, the 2009 Quarters Silver Set return is not unique.
However, it has become a rare occurrence since the Mint normally uses a "Waiting List" option. In this situation, the Mint keeps a "sold out" product in the store, but tells customers it is on a "Waiting List." Customers can then enter an order on standby with the understanding it will not get processed unless an old order is canceled. This method eliminates the confusion of a product popping in and out of availability, like is now the case with the 2009 Quarters Silver Set. It is not clear why the option was not used.
Last week the Mint had sales of the silver sets at 298,562. This week the number moved up 50 to 298,612. It is mere speculation but the sets could be capped at 300,000 which means they may not be available for long.
As for the set's silver melt value, that has only improved. Using Wednesday's London Fix silver price of $25 an ounce, the six 90% silver quarters have an intrinsic or melt value of $27.13 as they contain a total of 1.085 ounces of silver. That is only $2.82 less than the proof set's price.
The 2009 DC & US Territories Quarters Silver Proof Set includes quarter-dollars honoring the District of Columbia, Puerto Rico, Guam, American Samoa, the U.S. Virgin Islands and the Northern Mariana Islands. To purchase the 2009 quarters silver set, visit http://catalog.usmint.gov/ or call the Mint's toll-free number at 1-800-USA-MINT (872-6468).