DC & US Territories Quarters Silver Sets Sell Out
The United States Mint on Tuesday added the 2009 DC & US Territories Quarters Silver Proof Set to its sell out product listing, halting their sales after having been available since March 23, 2009.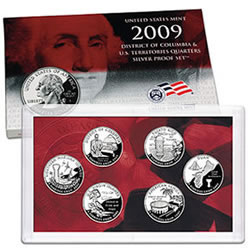 The latest US Mint sales figures have their total just shy of 300,000, coming in at 298,562 as of Sunday, October 24. These may be the final numbers available until the Mint releases audited figures in 2011.
Racing silver prices have made the sets a popular item during the last few weeks — at least more so than during the last several months. Instead of declining, their weekly sales performances had been improving. No doubt boosted by the fact that their intrinsic value was quickly approaching the Mint's set price of $29.95.
The six quarters honoring the District of Columbia, Puerto Rico, Guam, American Samoa, the U.S. Virgin Islands and the Northern Mariana Islands are each composed of 90% silver. In total, the set includes nearly 1.01 ounces of silver. Exactly two weeks ago the London silver Fix peaked at $24.49 an ounce. At that price, the 2009 DC & US Territories Quarters Silver Sets had a "melt value" of $26.57 — just a few dollars short of the Mint's price, making the sets look like a bargain. (The sales figures link above can be used to find the the current intrinsic worth of the set, as well as other products.)
Quarter-only silver sets have been available in since 2004. Sales figures for the 2009 quarters silver set are at the bottom despite their longer availability. The following table shows how the 2009 sets compare to prior year issues:
Quarters Silver Sets Sales: 2004-2010
Year
Sales
2004
593,852
2005
608,970
2006
351,000
2007
672,662
2008
429,021
2009*
298,562
2010*
198,533
* As of October 24, 2010
This year's silver quarters sets are priced higher, as a result of increased costs such as higher silver prices. The 2010 America the Beautiful Quarters Silver Proof Set (see proof set information) is listed at $32.95, and includes one less quarter. The quarters silver set contains a total of 0.904 ounces of silver.