2010 Silver Eagle Coin Rationing Ends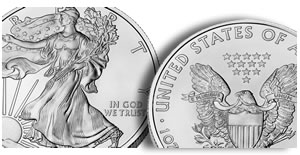 The United States Mint stopped rationing bullion 2010 Silver Eagle coins on September 3, 2010.
"Effective immediately, the United States Mint is lifting the allocation process for American Eagle one ounce silver bullion coins," the U.S. Mint told authorized buyers in a memorandum. "You may place your orders under the standard ordering procedures. The ordering minimum and incremental quantities apply."
The bullion 2010 Silver Eagle has been rationed since released on January 19, 2010. In fact, unprecedented demand for the .999 fine silver coins resulted in their allocation long before, as the Mint's supply of blanks which is used to make them had been strained. It also resulted in the cancellation of the collector proof and uncirculated 2009 Silver Eagles. The Mint focused its production on the bullion coins, as those must be produced by law in quantities sufficient to meet public demand.
However, bullion Silver Eagle sales in August fell significantly, enabling the Mint to catch-up. There is now the potential for the Mint to actually build an inventory, if buyers do not increase their order levels. And with that, there is more hope for proof and uncirculated Silver Eagles for this year. While rationing continued, it appeared the only chance for the collectors coins was through congressional involvement and amending the law. (For more on this topic, read the SilverCoinsToday.com article from August 3.)
The U.S. Mint does not offer its bullion silver coins directly to the public but instead sells them to a network of authorized purchasers for a small premium (currently $1.50 for each coin) over the current spot price of silver. They are then resold to anyone interested in buying. Unlike the numismatic American Silver Eagles, the bullion coins do not feature the West Point "W" mint mark nor the collector uncirculated or proof finishes.