Reminder: Braille Commemorative Coins on Sale Thursday, Mar. 26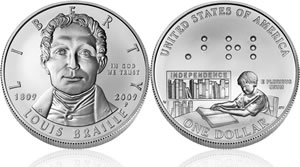 2009 Louis Braille Bicentennial Silver Dollars will go on sale today at the United States Mint. US Mint Director Moy will launch the coins in a ceremony at the National Federation of the Blind (NFB) Headquarters in Baltimore, Maryland.
The silver coins, which celebrate the 200th anniversary of Braille's birth, are available at noon ET. The proof version has an introductory price of $37.95 and the uncirculated coin is $31.95. After 5 p.m. ET on April 27, prices will increase by $4 for the proof and $2 for the uncirculated.
The bicentennial coins have a total mintage limit of 400,000 with 25,000 reserved for a special set that will be introduced later in the year.
Sales are expected to be strong given the unique design to include the first readable Braille characters on a U.S. coin. Many are expecting a sellout similar to the 2009 Lincoln Silver Commemoratives. (The Lincoln Silver Uncirculated sold out Tuesday, although collectors can still order and stand in a waiting list. The proof coin will sell out at any moment.)
The 2009 Louis Braille Bicentennial Silver Dollar features a portrait of Louis Braille on the obverse (heads side). The reverse (tails side) design depicts a child reading a Braille book. The word INDEPENDENCE is displayed on a bookshelf behind the child and the word Braille, abbreviated BRL in Braille code, is featured in the upper field.
For much more information on Braille and the silver coin offerings with order links and large images, visit the Silver Coins Today page at 2009 Braille Bicentennial Silver Dollars: Prices and Images, or visit the Mint at http://www.usmint.gov/.