Silver Ends Week Below $13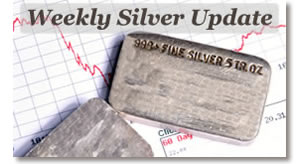 Exactly like last week, silver and gold prices fell while palladium and platinum rose. Silver ended under $13 in London and in New York.
In spot trading, the London silver fixing ended the week at $12.86 an ounce, falling 36 cents, or 2.7 percent. Silver dropped 43 cents during the previous week.
New York silver futures for May lost 52.8 cents on the week, or 4.0 percent, to close at $12.735. The metal ended the previous Friday at $13.263.
Despite two straight weeks of loses, silver soared 21.5 percent in the first quarter of 2009, making it a solid investment for the year — at least to date.
The following tables lists London precious metal prices from Friday PM to Friday PM:
London Fix Precious Metal Prices

Gold

Silver

Platinum

Palladium

AM

PM

AM

PM

AM

PM

3/27/2009
927
924
13.22
1142
1131
220
215
4/3/2009
902
905
12.86
1153
1159
222
221
Dollar and Percent Changes

3/27-4/3

Gold

Silver

Platinum

Palladium

$ Change

-$19.00
-$0.36
$28.00
$6.00

% Change

-2.1%
-2.7%
2.5%
2.8%
These articles offer week ending precious metals news: