Silver Prices Soar 10% in September, Padding a Heftier Quarterly Gain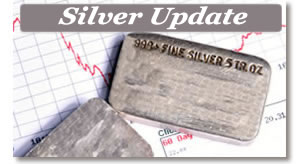 U.S. silver prices closed September with a final day loss, but still scored significant monthly and quarterly gains.
On Friday, silver prices for December delivery settled to $34.58 an ounce on the Comex in New York, dipping 8.9 cents or 0.3%. Silver traded from an intraday low of $34.33 an ounce to a high of $34.93 an ounce. Losses were attributed to a stronger U.S. dollar and profit-taking.
For September, silver prices traded up $3.14, or 10.0%, extending a monthly winning streak to three after four straight monthly losses. Running through the months, silver advanced 12.6% in August and 1.1% in July, then fell 0.5% in June, 10.5% in May, 4.5% in April and 6.2% in March. Before then, silver prices rallied in February by 4.2% and jumped 19.2% in January.
The most recent monthly increases secured silver's quarterly gain of $6.97, or 25.2%. The white metal has advanced in two of three quarters, with Q1 2012 up 16.4%. Silver prices declined 15.0% during the April-June period.
Silver has outperformed all other precious metals for September, the quarter and year-to-date — the latter logging in at 23.9%.
Silver's direction has tracked gold, which registered its best quarterly gain in over two years and has benefitted from easing monetary policy from world central banks that excite inflation expectations. Precious metals rallied after the Fed said earlier this month that it would stimulate the economy with $40 billion each month in mortgage-backed securities. Stimulus signals have also come out of the European Central Bank and the People's Bank of China.
A segment in Kitco Metal's Market Nuggets relays the following: "Given the Fed's promises of open-ended quantitative easing for a prolonged period, precious metals should be among the first and biggest winners, followed by actively traded commodity futures and then the largely physically settled bulks," says TD Securities. Still, commodities could trade sideways until they get another positive catalyst, such as more fiscal spending in China or partial resolution to Europe's debt crisis. "As such, buying the dips for a longer-term hold may be a good idea, particularly for oil, platinum, palladium and silver."
In other New York bullion prices on Friday and for the month:
December gold prices settled at $1,773.90 an ounce for a 5.1% gain in September,
January platinum prices closed to $1,669.30 an ounce for a 8.6% monthly pick-up, and
December palladium prices settled at $640.80 an ounce for a 1.8% gain in September
Their quarterly gains include 10.6% for gold, 14.9% for platinum and 9.6% for palladium. Gold and platinum added to their 2012 increases. Gold is 13.2% higher this year. Platinum has rallied 18.8% in 2012. Palladium is the lone precious metal lower this year, down 2.3%.
Also on Friday, the London silver Fix was $34.65 an ounce, advancing 70.0 cents or 2.1%. London silver prices shot up 13.5% in September. As for quarterly and year-to-date figures, London silver has respectively gained 28.0% and 23.0%.
In other London fixings for the day and September, gold at $1,776.00 an ounce advanced 7.7% for the month, palladium at $642.00 an ounce added 3.0% in September and platinum at $1,668.00 an ounce surged 10.0% for the month.
Quarterly improvements for London precious metals were 11.1% for gold and palladium and 16.8% for platinum. They are all higher this year with gains so far of 12.8% for gold, 0.9% for palladium and 20.8% for platinum.
Bullion American Eagle Silver Coins and ATB Five Ounce Silver Coins
Sales stats for U.S. Mint bullion silver coins have not been finalized for September, although available figures are unlikely to change.
As they stand now, bullion American Eagle silver coins are at 3,255,000 — the best monthly sales total since January when U.S. Mint distributors ordered more than 6.1 million. Additionally, buyers have snapped up 14,700 America the Beautiful Five Ounce Silver Coins, which is the third best monthly amount this year after the 19,400 coins sold in August and the 18,700 silver coins delivered in July. The newest silver bullion coin released, on September 10, honors Hawai'i Volcanoes National Park. 10,400 have sold, accounting for the biggest portion of the overall five-ounce coin sales in September.
A more detailed bullion sales article will follow after the U.S. Mint officially finalizes September sales stats.