Silver's Slide Ends in January, 2010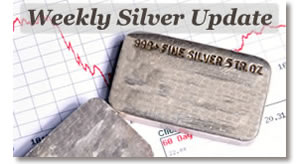 Silver prices can head no lower in January, but only because the trading days ended for the month on Friday. Silver tumbled during the first month in 2010, falling 4.1 percent in London and 3.9 percent in New York.
The strength of the US dollar and worries over industrial demand were commonly cited for silver (and platinum) declines.
The enormous surge in prices during the first week of the year helped to lesson the impact of a mostly declining trend seen in the remaining days and weeks. Last week prices decline the most in January, but this week was no bed of roses for the metal either.
New York silver futures for March delivery ended at $16.190 an ounce, falling 74 cents or 4.4 percent this week. London silver was fixed at $16.29 an ounce, dropping 99 cents or 5.7 percent since last Friday. Prices continually slid through each succeeding day of the week.
"The strength in the dollar is pushing back a lot of the metals" Tom Hartmann, an analyst at Altavest Worldwide Trading LLC in Mission Viejo, California, said on Bloomberg. "You would think that a stronger economy would improve demand for commodities, but right now it's helping the dollar."
London precious metal weekly prices follow:
London Fix Precious Metal Prices

Gold

Silver

Platinum

Palladium

AM

PM

AM

PM

AM

PM

1/22/2010
1096.50
1084.00
17.28
1556.00
1540.00
435.00
432.00
1/29/2010
1082.75
1078.50
16.29
1514.00
1512.00
419.00
419.00
Weekly Bullion Prices

Up

Down

% Change

Gain/Loss

Silver
X

-5.7%

-$0.99

Gold
X

-0.5%

-$5.50

Platinum
X

-1.8%

-$28.00

Palladium
X

-3.0%

-$13.00
These articles offer precious metals and silver coin news: In related silver and gold news, interesting or quick-read articles from the week include:
For silver news and prices, see Bullion Prices Today.