2010 Silver Eagle Coins Make History in November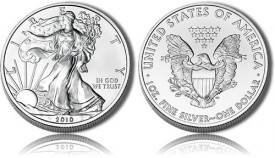 November was a history making month for 2010 Silver Eagle coins. The bullion version broke three records during the month and the numismatic proof version debuted with exceptional three-day sales.
The 2010 Silver Eagle bullion continues to add to its all-time annual sales and mintage records, but the last of the three records — how many were sold in November — is now official history.
US Mint Authorized Purchasers scooped up 4,260,00 of the bullion Silver Eagle coins in November 2010. No other month in the history of the series has been better. December 1986 — the first full month after the coins were introduced — held the previous monthly record at 3,696,000. November beat that by 864,000.
This year has been full of extraordinary monthly sales. May 2010 nearly broke the old monthly record as well, and it currently holds the third top slot.
Monthly Silver Eagle Bullion Sales in 2010

Monthly
Sales
January
3,592,500
February
2,050,000
March
3,381,000
April
2,507,500
May
3,636,500
June
3,001,000
July
2,981,000
August
2,451,000
September
1,880,000
October
3,150,000
November
4,260,000
YTD 2010 Total
32,890,500
As a quick recap for the other two records, the bullion eagle coins first eclipsed the all-time annual record in early November. The latest numbers through the first eleven months have year-to-date sales at nearly 33 million. Additionally, the all-time mintage record for the 2010 Silver Eagle coins is at 32,523,000 and growing.
The annual sales and mintage figures are not the same since the US Mint did not offer the 2010 Silver Eagle until January 19. It was actually selling the 2009-dated Silver Eagle coins from late December 2008 until they sold out on January 12, 2010.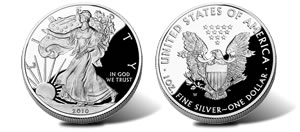 As for the 2010 Proof Silver Eagle which went on sale November 19, their three-day sales debut came in at 273,212. Their opening sales topped those of the prior 2008 Proof Silver Eagle coins, which were reported at 185,232.
More than a week has passed since those numbers were revealed. The US Mint is yet to provide updated figures as it is working through some "challenges" in getting weekly sales report information. As a snapshot, here are previous year sales and mintage figures for the proofs:
Proof Silver Eagle Sales / Mintages

Year
Mintages / Sold
1986-S
1,446,778
1987-S
904,732
1988-S
557,370
1989-S
617,694
1990-S
695,510
1991-S
511,924
1992-S
498,543
1993-P
405,913
1994-P
372,168
1995-P
407,822
1995-W
30,102
1996-P
498,293
1997-P
435,350
1998-P
450,728
1999-P
549,330
2000-P
600,743
2001-W
746,398
2002-W
647,342
2003-W
747,831
2004-W
801,602
2005-W
816,663
2006-W
843,602
2007-W
821,759
2008-W
700,979
2009-W
No Proofs Minted
2010-W
TBD
2010 Silver Eagle bullion coins should not be confused with the 2010 Silver Eagle proof coins. The bullion versions do not have the proof collector finish or the "W" mintmark denoting their production at West Point. Also, the Mint does not directly offer bullion coins to the public like it does with proofs. Instead, the Mint uses a network of Authorized Purchasers who buy bullion eagles in quantity, and then resell them for a small premium over the current silver spot price.