US Mint Silver Coin Sales Stats – Jan 7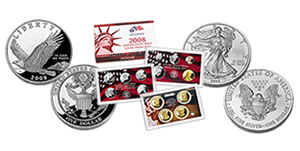 Sales figures for the American Legacy Collection experienced the largest percentage rise compared to the previous US Mint sales report. Numbers increased 4.83 percent and by 2,777 units. For a product that was discontinued on December 12, its percent leadership is surprising and unexplained.
On a unit comparison, however, the legacy collection came in at number three, behind the popular US Mint Silver Proof Set with an increase of 11,105 sold and the American Eagle Silver uncirculated coin that climbed by 2,629.
The Bald Eagle silver dollar dropped again for the second consecutive reporting period. Units were down by 225, although not as low as the massive 2,213 decline in late December.
There may be an indication for a coming end to 2008 American Eagle uncirculated coins. For several days the Mint has shown the product as "available for shipping 01/30/2009." In other coin series with added back order dates, sales tended to end quickly. There is no official word at this point. And no signal on the Mint's 2009 release schedule for when 2009-dated American Eagles will launch.
US Mint silver coin sales figures follow:
U.S. Mint Silver Coin Sales Stats
(December Week 4 to January)
Previous Sales

New Sales

Unit Increase

% Increase

Mintage Limit

American Eagle Silver Dollar Proof*

713,236

713,265

29

0.00%

none

American Eagle Silver Dollar Uncirculated

435,032

437,661

2,629

0.60%

none

2008 Bald Eagle Silver Dollar Proof*

249,302

249,077

(225)

-0.09%

500,000

2008 Bald Eagle Silver Dollar Uncirculated*

91,714

91,722

8

0.01%

2008 Bald Eagle Three-Coin Proof Set*

25,000

25,000

–

0.00%

25,000

Annual Uncirculated Dollar Coin Set

39,330

40,589

1,259

3.20%

none

U.S. Mint Silver Proof Set

658,835

669,940

11,105

1.69%

none

50 State Quarters Silver Proof Set

408,011

410,788

2,777

0.68%

none

American Legacy Collection Set*

20,815

21,821

1,006

4.83%

50,000
* The coin products with an asterisk have been sold out or are no longer available.
For more information regarding each of the above coins, to include their prices and U.S. Mint product page links, view the Silver Coins Today page Mint Silver Coins.
Visit the CoinNews collector tool page Mint Coin Price Guide for tables of common gold and platinum coin stats.
Additionally, NumisMaster has a breakdown of the latest sales figures for most Mint coins at: Almost 20 million silver Eagles sell in 2008.