US Silver Coin Sales Stats – Apr 30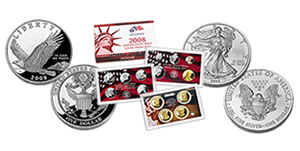 Braille Bicentennial Silver Dollar sales skyrocketed and interest in other silver coins remained relatively strong, the latest United States Mint sales statistics reveal.
Compared to the last reported Mint figures, Braille Silver Dollar sales surged higher than even the prior impressive jump, rising 38.1 percent for the proof coin and a cumulative 28.0 percent for the uncirculated options.
Interest in the coins appeared to be waning, until the latest two Mint readouts showed reversals. 125,002 Braille dollars have now been sold, with 31,836 new sales added over last time.
2009 DC & US Territories Silver Proof Set sales improved by 9,722, or 9.7 percent. A total of 110, 411 have now been purchased by collectors.
As a reminder, Lincoln Silver Dollar figures remain unchanged for the fourth straight week. The maximum amount of individual coins have sold out, leaving 50,000 proof coins reserved for the special 5-coin set coming later this year.
Here are the latest numbers:
U.S. Mint Silver Coin Sales Stats
(Sales figures compare previous to current Mint sales reports)
Previous Sales

New Sales

Unit Increase

% Increase

Mintage Limit

2008 American Eagle Silver Dollar Proof*

713,353

713,353

0

0.00%

none

2008 American Eagle Silver Dollar Uncirculated*

444,558

444,558

0

0.00%

none

2009 Lincoln Silver Proof*
325,000
325,000
0
0.00%

500,000

2009 Lincoln Silver Uncirculated*
125,000
125,000
0
0.00%
2009 Braille Silver Proof
56,794
78,430
21,636
38.10%
400,000
2009 Braille Silver Uncirculated
25,271
32,159
6,888
27.26%
Braille Uncirculated in Easy-Open Capsule
11,101
14,413
3,312
29.84%
2009 Quarters Silver Proof Set
100,689
110,411
9,722
9.66%
2008 Annual Uncirculated Dollar Coin Set
60,630
60,630
 0
0.00%

none

2008 U.S. Mint Silver Proof Set
745,464
747,534
2,070
0.28%

none
*Coin products with an asterisk are no longer available.
The previous reported sales figures are located at US Silver Coin Sales Figures – Apr 23. As another reminder, the collector 2009 silver eagles are still suspended.
The Silver Coins Today tool page Mint Prices & Sales has been updated with the latest Mint sales figures.
Visit the CoinNews collector tool page Mint Price Guide for tables of common collector gold and platinum coin stats, or First Spouse Coin Sales Figures for coin stats of the First Ladies. Additionally, NumisMaster has a breakdown of the latest sales figures for most Mint coins here.