US Silver Coin Sales Stats – May 14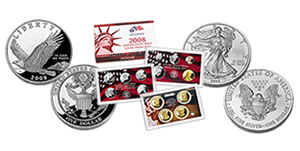 Excluding 2009 Quarters Silver Proof Sets, demand for US silver collector coins tumbled based on the latest United States Mint sales report.
Taking the biggest hit were Braille Silver Dollars. Sales of the coins did show slippage in last week's report, but they remained exceptionally high. The latest figures have percent increases dropping to single digits. It will be interesting to see if the NFB and Braille coin space flight news perks up the numbers next week, and how many more over 150,000 are bought.
In coming back to the 2009 DC & US Territories Quarters Silver Proof Set, an additional 11,871 were purchased by collectors, representing a more than respectable 9.86 percent increase. 132,208 have been sold since they went on sale March 23.
Here are the latest numbers:
U.S. Mint Silver Coin Sales Stats
(Sales figures compare previous to current Mint sales reports)
Previous Sales

New Sales

Unit Increase

% Increase

Mintage Limit

2008 American Eagle Silver Dollar Proof*

713,353

713,353

0

0.00%

none

2008 American Eagle Silver Dollar Uncirculated*

444,558

444,558

0

0.00%

none

2009 Lincoln Silver Proof*
325,000
325,000
0
0.00%

500,000

2009 Lincoln Silver Uncirculated*
125,000
125,000
0
0.00%
2009 Braille Silver Proof
91,123
94,195
3,072
3.37%
400,000
2009 Braille Silver Uncirculated
37,252
38,196
944
2.53%
Braille Uncirculated in Easy-Open Capsule
16,933
17,534
601
3.55%
2009 Quarters Silver Proof Set
120,337
132,208
11,871
9.86%
2008 Annual Uncirculated Dollar Coin Set
62,162
62,877
715
1.15%

none

2008 U.S. Mint Silver Proof Set
749,578
751,475
1,897
0.25%

none
*Coin products with an asterisk are no longer available.
The previous reported sales figures are located at US Silver Coin Sales Figures – May 6.
As a reminder, Lincoln Silver Dollar figures remain unchanged. The maximum amount of individual coins have sold out, leaving 50,000 proof coins reserved for the special 5-coin set coming later this year. As yet another reminder, the collector 2009 silver eagles are still suspended.
The Silver Coins Today tool page Mint Prices & Sales has been updated with the latest Mint sales figures.
Visit the CoinNews collector tool page Mint Price Guide for tables of common collector gold and platinum coin stats, or First Spouse Coin Sales for coin stats of the First Ladies.