US Mint Silver Coin Sales Decline – Mar 13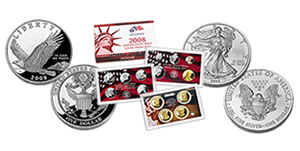 Collectors are purchasing less silver coins, according to the latest United States Mint sales stats.
2009 Lincoln Dollars are still experiencing extreme popularity with collectors, however, with 45,534 more of the proof and uncirculated coins sold over the last report and a new total of 380,585 reached.
While selling more than 45,000 coins in about a week is exceptional for the commemorative series, nearly 100,000 flew off Mint store shelves the week prior.
A combined 500,000 maximum mintage is authorized for both coins, with 50,000 reserved for a special five-coin set yet to be detailed by the Mint. (For more, read Lincoln Silver Dollar Intro Prices Ending, Sales Near Mintage Limits.)
Again, the Annual Uncirculated Dollar Coin Set did well with an increase of 2.4 percent. The set contains a 2008-dated American Eagle silver and each 2008 Presidential $1 coin for $37.95. The Mint recently said in a statement that 2009-dated silver eagle coins are suspended.
Here are the latest US Mint silver coin sales figures:
U.S. Mint Silver Coin Sales Stats
(March: Week 1 to Week 2)
Previous Sales

New Sales

Unit Increase

% Increase

Mintage Limit

2008 American Eagle Silver Dollar Proof*

713,353

713,353

0

0.00%

none

2008 American Eagle Silver Dollar Uncirculated*

444,558

444,558

0

0.00%

none

2009 Lincoln Silver Proof

232,902

265,741

32,839

14.10%

500,000

2009 Lincoln Silver Uncirculated

102,149

114,844

12,695

12.43%

2008 Annual Uncirculated Dollar Coin Set

53,444

54,733

1,289

2.41%

none

2008 U.S. Mint Silver Proof Set

722,800

726,998

4,198

0.58%

none

2008 50 State Quarters Silver Proof Set

424,729

425,946

1,217

0.29%

none
* The 2008-dated coin products with an asterisk have been sold out or are no longer available.
The previous reported sales figures are located at Lincoln Silver Dollars Break 335,000 in US Mint Sales – Mar 5.
Visit the CoinNews collector tool page Mint Price Guide for tables of common gold and platinum coin stats. Additionally, NumisMaster has a breakdown of the latest sales figures for most Mint coins here.